WHAT IS SCRUM MASTER ACCREDITED CERTIFICATION PROGRAM?
Register Scrum Master Accredited Certification Program >>
| | |
| --- | --- |
| | Scrum Master Accredited Certification Program is a multiple-choice online test examination in which you can participate from your own PC from anywhere around the world. The test contains 50 questions and you have 60 minutes in a single session to answer all of the questions. Test and certification cost in total USD 29. No other hidden costs or fees involved. In order to pass the examination and to obtain your Scrum Master Accredited Certification you need to correctly answer at least 60% of the questions. Examination success rate is 98%. |

The overall process of Scrum Master Accredited Certification Program is as simple and fast as the following:
1. Register Online for your Scrum Master Accredited Certification Program.
2. We send your Exam Access Code instantly Online after Registration.
3. Take Online Test Exam anywhere and anytime you want, and answer 50 multiple-choice questions.
4. Get your Lifetime and Worldwide valid Scrum Master Accredited Certification Document in pdf-format instantly online after you finish your Exam.

Are You Afraid Of Failing At Your Examination?
WE PROVIDE 100% MONEY BACK GUARANTEE! Yes. You read it correctly. We provide 100% Money Back Guarantee if you fail at your Examination! In case you may not pass the examination during your first attempts, your access code will be free of charge reactivated up to 10 times, so you can retake the examination without any additional fee.
If you still fail at your last attempt, we will hassle free refund your full registration fee without asking any questions!

Examination and Certification Document in PDF-Format are all inclusive for USD 29.
There are no other hidden costs or fees involved.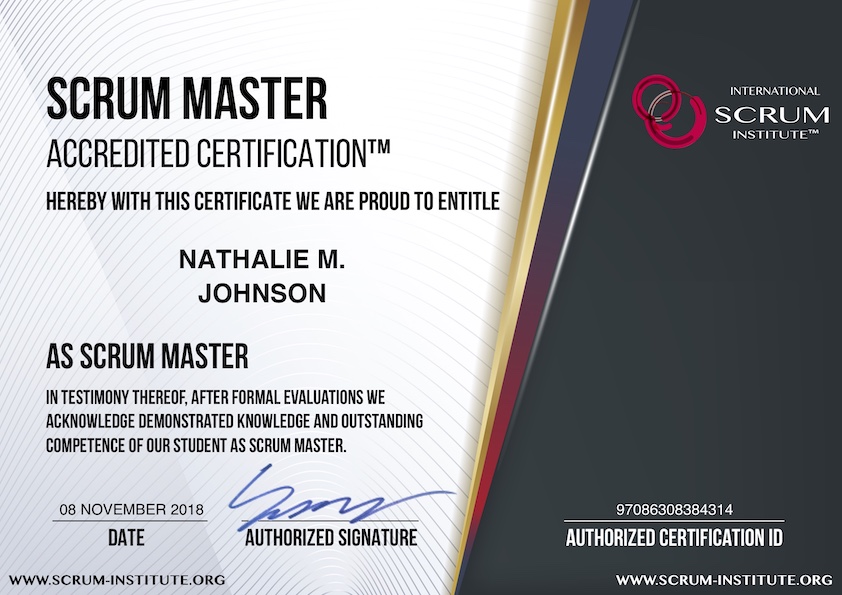 Scrum Master Accredited Certification Low Resolution Small Sample


From our International Scrum Institute Industry Feedback page you can read some examples of how the others took the benefit of our Scrum certification programs. Furthermore, Our Certificants page provides a list of our certificants certified by our Scrum certification programs.

Please have a look at our Frequently Asked Questions page in case you may have some further questions about our Scrum certification programs.

Moreover, please check our Example Scrum Certification Test Questions page to get an idea of how our Scrum certification test questions look like.

Register Scrum Master Accredited Certification Program >>

OUR FREE OF CHARGE PREMIUM ONLINE SCRUM TRAINING PROGRAM

Scrum Training Program prepared by our consortium of renowned Scrum Experts and Coaches are available to all visitors of International Scrum Institute's web site. Online Scrum Traning Materials are accessible under Scrum and Training links from the top menu.

Although this Online Scrum Training Program is the copyrighted intellectual property of International Scrum Institute, we wanted to make these materials freely accessible for everybody. We believe that only by sharing our expertise we can best serve for Scrum Professionals and Scrum.

Our Accredited Scrum Certification Programs comprise multiple-choice Test Examinations. Reading our Online Scrum Training Program will be very helpful for Scrum Professionals to acquire the knowhow to pass our Scrum Certification Examinations and to get their Accredited Scrum Certifications. We guarantee that our free of charge premium online training will make you pass your Certification Exam!



FOR YOU WE WROTE THE BOOK OF "SCRUM"

Within the context of our certification programs for our certificants, we made thorough research in Scrum Education space. The conclusion was: We failed to find one single textbook, we could sincerely recommend to our students! We surveyed and found out that, almost none of the Scrum books in the market can really help their readers make a smooth entry to Scrum. Significant number of Scrum books in the marketplace claim that they cover all details of Scrum, but what they are not telling is that, they don't have understandable, clear and logical content to help their readers comprehend and love Scrum!

Therefore, we wrote "SCRUM REVEALED" book for you and brought it for your attention!
We are absolutely confident "SCRUM REVEALED" will make you proficient in Scrum, so that you will have a better chance to love Scrum and keep on taking the professional benefits of it.

Take some coffee to enjoy and some paper to take your notes, and spend your day to read this great book! After one day you will have an outstanding understanding about Scrum and be ready to deliver great products and services to your clients and employers!

Click the link below to check out "SCRUM REVEALED" and our other books in Amazon Kindle Store >>


WHAT MAKES OUR CERTIFICATION PROGRAMS BEST OF THE INDUSTRY?
| | |
| --- | --- |
| | 100% MONEY BACK GUARANTEE! If you don't pass your Scrum Certification Examination, we hassle free refund your full registration fee! |
| | Worldwide Credibility and Acceptance of Accredited Scrum Certifications issued by International Scrum Institute. |
| | International Recognition from all industries and from all leading organizations which embrace Agile Software Engineering and Scrum Practices. |
| | International Scrum Institute is fastest growing Scrum Community with over 387'000 Scrum Master and Scrum Product Owner Accredited Certifications. |
| | Rapid and Online Accredited Scrum Certification Programs. |
| | Certification Programs have been developed by a consortium of Selected Agile Software Development and Scrum Practitioners. |
| | No mandatory classroom trainings. Scrum Professionals are obliged to attend expensive classroom trainings as an indispensible part of other certification programs. However, International Scrum Institute doesn't only value the knowhow gained from classroom trainings, but also we value the knowhow gained from reading and self-study or from any other medium and experience. Therefore, we do NOT mandatorily require our members to get classroom trainings before they can get certified in Scrum. |
| | Valid for Lifetime Scrum Certifications. Certificates issued by other certification programs are only valid for a few years or even less because they treat certification renewal process as an easy way to generate income. We believe that no fundamental changes are happening in the very core of Scrum which deserves continuous examinations to revalidate proficiency in Scrum. Scrum offers endless possibilities how companies tailor Scrum or merge it with other project, process and development frameworks for their particular needs and environments. This shouldn't be perceived as an evolution of Scrum itself. |
| | International Scrum Institute makes special group discounts for its Scrum Certification Programs when the number of Scrum certification applicants are more than 10. Please write us from info@scrum-institute.org e-mail address whenever you need more information about how the examination and certification delivery processes are working for groups with multiple Scrum certification applicants. |
Register Scrum Master Accredited Certification Program >>
WHO SHOULD GET SCRUM MASTER ACCREDITED CERTIFICATIONS?

The main role of a Scrum Master is to ensure smooth establishment, efficient and healthy progress and continuous improvement of Scrum Practices in an agile Scrum team. Therefore, competence and perspective of every single Scrum Team Member in an agile Scrum team to be able to act on behalf of and with a Scrum Master is a fundamental factor which determines the success level and lifetime of an agile Scrum team.

Whether you act as Scrum Master or not in your Scrum team, it is profoundly important for you to have a clear understanding about how and what makes Scrum far more successful, efficient and delightful to work with than other project management frameworks. Therefore, we recommend you to obtain a Scrum Master Accredited Certification if you are conducting one of the following Software Engineering roles:


| | | | |
| --- | --- | --- | --- |
| | Business Analyst | | Team Leader |
| | Architect | | Program Manager |
| | Designer | | Project Manager |
| | Programmer | | Product Manager |
| | Tester | | |
BENEFITS OF SCRUM MASTER ACCREDITED CERTIFICATIONS

Benefits for Employees and Freelancers

| | |
| --- | --- |
| | It will be your Proof of Competence and up-to-date Knowhow in Scrum Domain. |
| | It will help you become better than your competition and ultimately get hired for your next big challenge. |
| | It will broaden your perspective. It will help you get more responsibilities and better career opportunities compared to your peers. |
| | It will provide a brand new toolset that you can deliver great products and services that your customer will enjoy and love. |

Benefits for Employers

| | |
| --- | --- |
| | It will reduce costs by improving efficiency of your teams, activities and processes. |
| | It will help you win projects with your qualified employees. |
| | It will improve employee satisfaction by encouraging them to get trained and learn. |
| | It will improve the quality of your deliverables and customer satisfaction. |
Register Scrum Master Accredited Certification Program >>
©2014 International Scrum Institute - All Rights Reserved