The overall process of Your Scaled Scrum Expert Accredited Certification™ Program is as simple and fast as the following:
Register Online for your Scaled Scrum Expert Accredited Certification™ Program.
We send your Exam Access Code instantly Online after Registration.
Take your Online Test Exam anywhere and anytime you want, and answer 50 multiple-choice questions.
Get your Lifetime and Worldwide valid Scaled Scrum Expert Accredited Certification™ instantly after you finish your Exam.


Are You Afraid Of Failing At Your Examination?
WE PROVIDE 100% MONEY BACK GUARANTEE!
Yes. You read it correctly. We provide 100% Money Back Guarantee if you fail at your Examination! In case you may not pass your certification examination during your first attempts, your access code will be free of charge reactivated up to 10 times, so
you can retake your examination without any additional fee.
If you still fail at your last attempt, we will hassle free refund your full registration fee without asking any questions!
Examination and Certification are all inclusive for USD 149. No hidden fees ever.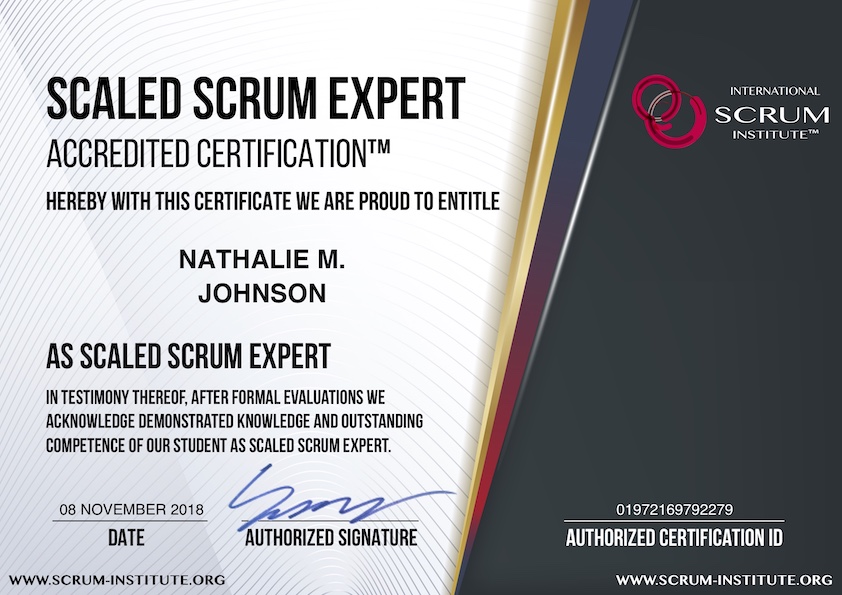 Your Scaled Scrum Expert Accredited Certification™ Low Resolution Small Sample
From your
International Scrum Institute™ Industry Feedback
page you can read some examples of how the others took the benefit of our worldwide recognized Scrum Certification programs. Furthermore,
Our Scrum Certification Owners
page provides a list of our students certified by our International Scrum Institute™'s Scrum Certification Programs.
Please have a look at your
Frequently Asked Questions
page in case you may have some further questions about your Scrum Certification programs.
Moreover, please check your
Example Scrum Certification Test Questions
page to get an idea of how your Scrum Certification test questions look like.
Register Scrum Certification >>